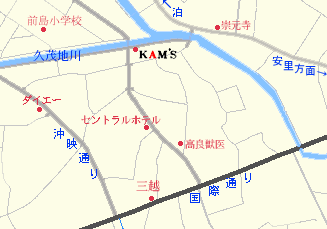 $BFaGF;TKR;V(B2-23-4
098-863-3651
090-2851-7326 ($B7HBS(B)
DIRECTIONS:
Drive on highway #58 towards Naha. Go past Camp Kinser gate #1 and proceed over the bridge. Drive into Naha city until you come to the Kariyushi Hotel, (Tomari Inn) on your right hand side (the Tomari port is behind and you will see ferry boats). Turn left at the next corner (there are parking lots on each side as you turn). Drive straight ahead for about one kilometer until you come to a small bridge which is over a small canal (there is monorail construction on both sides of the bridge). As you cross the bridge look to your left and you will see a white stucco building with the word JAZZ on it. This is KAMS! Drive straight after the bridge for 1 1/2 blocks and you will see a parking lot on the left hand side.
KAM'S$B$X$N9T$-J}(B ($B%3%6J}LL$+$i$N>l9g(B)
58$B9f@~$rFaGF$K8~$+$C$F?J$`!#(B $B%-%c%s%W%-%s%6!<$N%2%$%H(B1$B$rDL$j$9$.!"66$rEO$k!#(B $BFaGF;TFb$KF~$C$?$i!"(B $B$+$j$f$7%[%F%k(B($B$H$^$j$s(B)$B$,1&B&$KMh$k$^$G(B($BGq9A$N%U%'%j!<%\!<%H$r8e$m$K8+$F(B)$B?J$`!#(B $B<!$N3Q$r:8$K6J$,$k(B($B6J$,$k$H$-(B, $BCsl$,N>B&$K$"$k(B)$B!#(B $B>.$5$$1?2O$K$+$+$C$F$$$k>.$5$J66$K$?$I$jCe$/$^$G(B($B66$NN>B&$O%b%N%l!<%k$N9);vCf(B) $B$*$h$=(B1$B%-%m%a!<%H%kD>?J$9$k!#(B $B66$rEO$k$H$-:8$r8+$k$H!"(BJAZZ$B$H=q$+$l$?Gr$$6t$N7zJ*$r$,8+$($k$O$:!#(B $B$=$l$,(BKAM'S$B$@(B! $B66$r2a$.$F$+$i(B1$B%V%m%C%/H>$^$C$9$0?J$a$P!":8B&$KCsl$,$"$k!#(B
$B;TFb$J$I$+$i%?%/%7!<$N>l9g(B
$B%?%/%7!<$N1?E>

---
$Id: oldmap.html,v 1.1 2000/12/07 13:33:34 void Exp $
---